Welcome everyone to our Family Church ONLINE Page. Please invite your family and friends to join us by directing them to this page.
We hope you will enjoy joining in with the video message, prayers, talk and song. There are also activity sheets for you to join in with.
Remember Karen (Kas) would like to have your feedback and any completed worksheets. Be blessed as we remember you all in our prayers.
21 March 2021
Palm leaves, we are told, are the huge leaves that people waved as Jesus rode into Jerusalem on a donkey.
To make our palm leaf you will need paper, scissors and glue or a glue stick.
First of all draw round your hand – you will need to do this about 12 times. If you don't have green paper you could colour the paper with crayons or you could make handprints with green paint on your hands – lovely and messy! Be creative.
When all the hand shapes are ready you can begin sticking them on a stem – I used rolled up brown card, like the stuff that comes in Amazon parcels. Start sticking from the top down alternating sides as you go.
I've also made a small one using foam hand shapes and a drinking straw.
We would love to see your creations.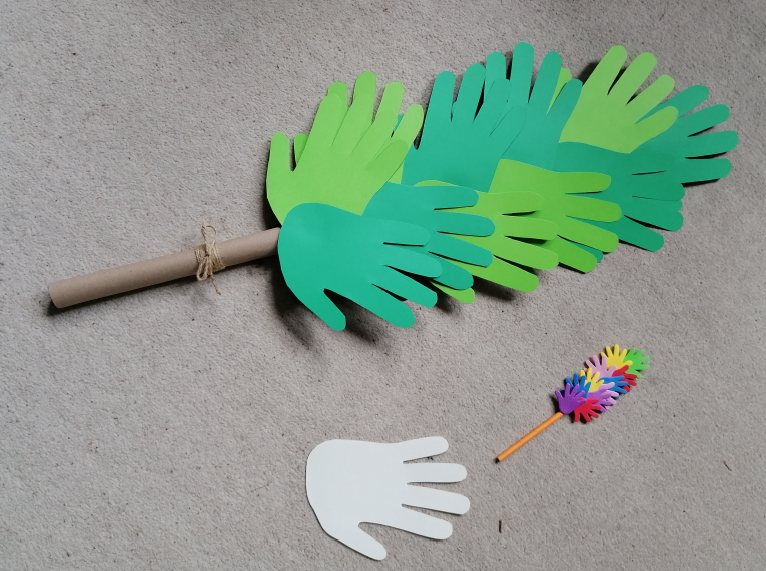 21 February 2021
17 January 2021
Click this Link for the file https://stchadstmary.org.uk/wp-content/uploads/Documents/HappinessTree.pdf
20 December 2020 Nativity
15 November 2020
Click this Link for the file
stchadstmary.org.uk/wp-content/uploads/Documents/CenturionsServantPictureToColour.pdf
Click this Link for the file
https://stchadstmary-org.uk/wp-content/uploads/Documents/FaithAndTrust.pdf
18 October 2020
The Wise Man Colouring Page click to open
The Wise Man House Cut-Out Click to open
20 September 2020
Family Church Fruit Crafts Sheet link
16 August 2020
Break the Code Click Here
Bee Hotel Click Here
July 2020
Downloadable copy of instructions – right click on image and select 'save image as…' or Click here
June 2020
Be Still and know that I am God – Craft – Click here
May 2020
Friends and Family Worksheet – Click here
Prayer Bracelet – Click here
Friend and Family Action Plan – Click here
April 2020
Fishing 4 People – Wordsearch – Click here
Disciples Jobs Quiz – Click here
Disciples Crossword – Click here
Disciple Colouring in Sheet – Click here