ST MARY & ST CHADS SUSTAINABILITY GROUP.
Introduction.
Sustainability Group
During Lent this year many of us at Church did a course exploring how we have a responsibility to take care of Gods earth.
We have set up a group to discuss and action ways in which we can contribute to protect our world, ensuring future generations can continue to enjoy all that we have been privileged to in our lifetime. Climate change is happening NOW and at an alarming rate. Our own children and grandchildren will pay the penalty if we don't act immediately. As individuals there are plenty of small things that we can do to help protect the earth and all that is in it. You may think how can one persons actions make a difference? Rebbeca Hosking, a wildlife photographer, saw for herself the effects of plastic waste on sea life. She started a campaign in her small town in Devon in 2007 to stop the single use of plastic bags and to use greener alternatives. Her local butcher alone used several thousand plastic bags in a year. This has become a nationwide initiative and has made a tremendous impact.
We will be posting regular suggestions in the newsletter, under the heading "Go Green" , to give ideas of how each of us can make small changes on an everyday basis. Space will dictate how much we can write on such a broad subject, the idea is to inspire you to research the way that you feel you can make changes in your life. We hope also to post articles and information on the notice board at the back of church.
Who are We?
We are a small group, made up of Joy from St Chad's and Andrea, Pauline, Shirley and Charles from St Mary's. We are keen to hear from anyone with ideas or who wishes to join us. Talk to us through our Churches or use the contact us page on the web site.
What are we doing?
Below is a timeline of our proposed actions which we shall update as we go along.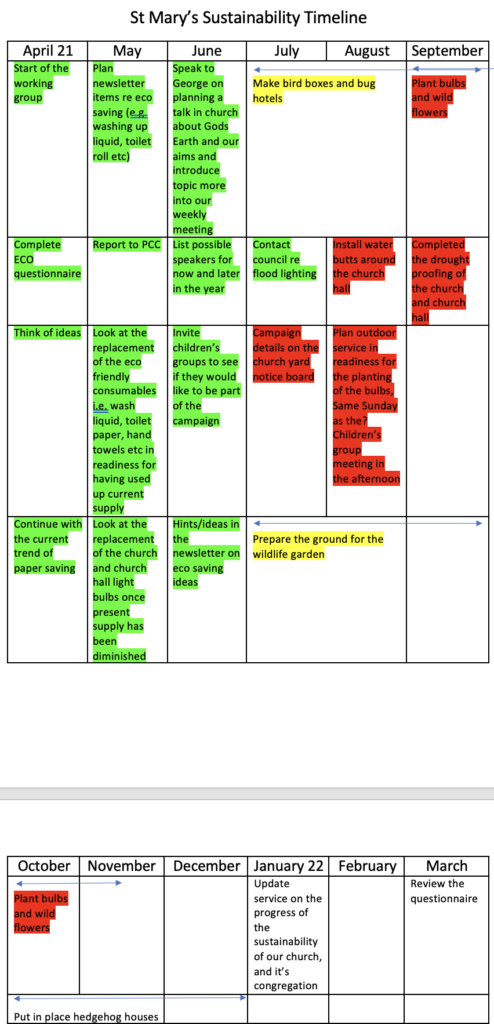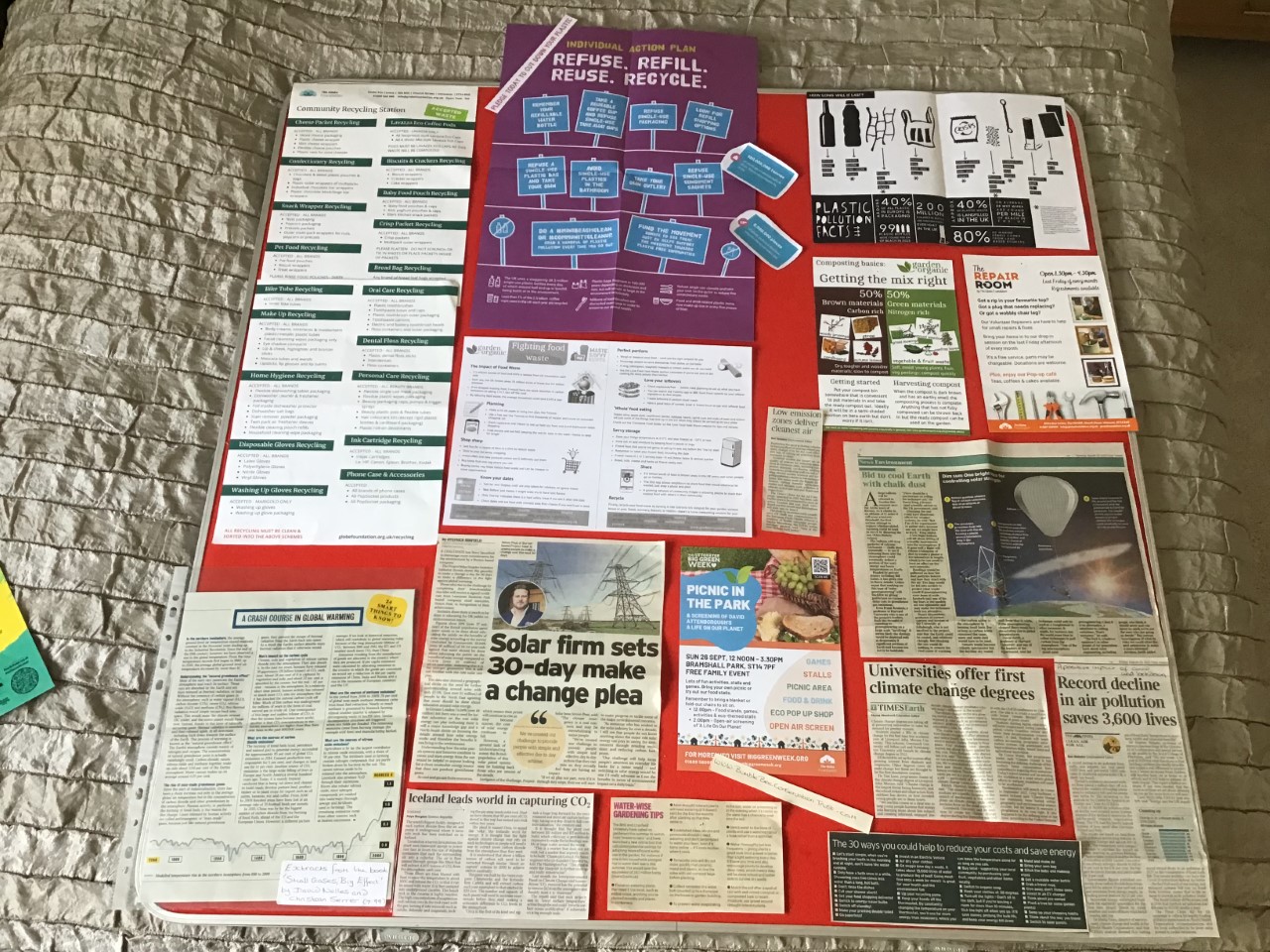 From Joy: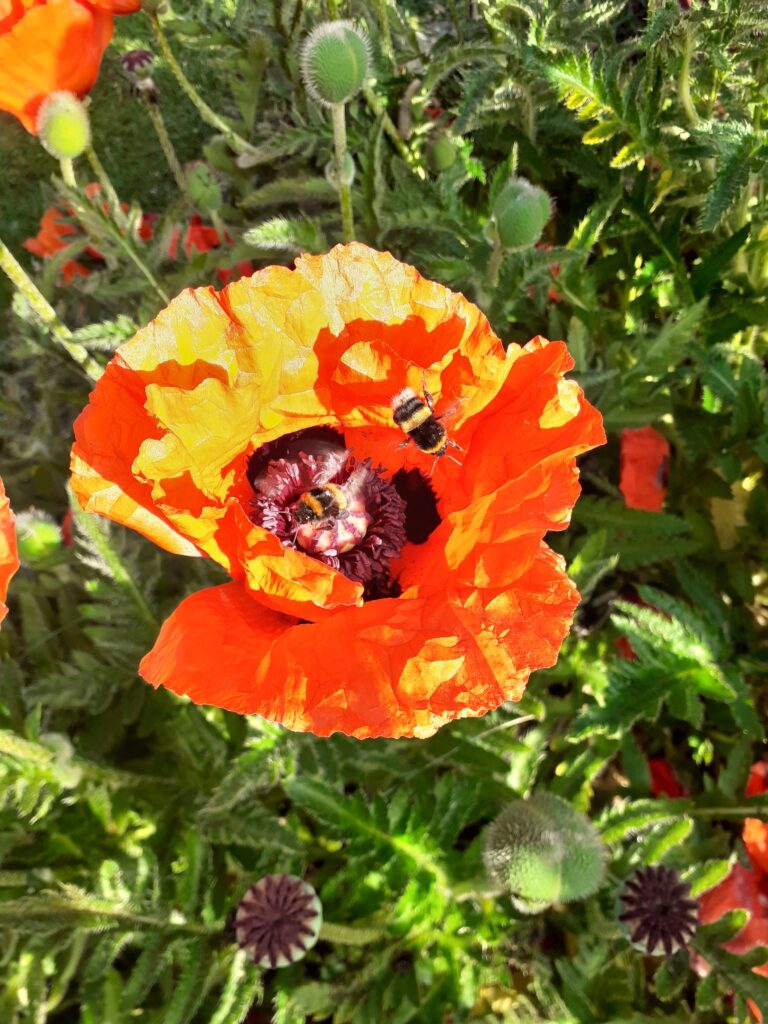 3 July 2021
Go Green…….some thoughts from Laura

At our previous house we had two compost bins and a wormery which all generated some fabulous nutrient rich compost. Sadly we don't have room for one compost bin here but I save all my vegetable and fruit peelings( with the exception of potatoes and citrus peel) and take them to my Mums for her compost bin. I also save the insides of toilet and kitchen rolls , tear them up and add them as it's good to add card and paper too. It's certainly well worth trying this as it only takes 6-8 months for it to break down into really good compost to supplement your garden soil. If anyone who perhaps isn't a gardener and would like to save their vegetable peelings I would be willing to collect for compost. Please ring me firstly for a chat.

Do you know banana skins make excellent plant food? Lay them around the base of your roses or chop them up and leave in a bucket of water for a week, then use the water to feed your plants.
Save your eggshells and use them to protect plants from slugs and snails.

Thank you Laura… if anyone is inspired and is considering making their own compost there are many informative websites to explore. Gardenersworld.com howtomakecompost is a good beginners guide. If you have no access to the internet and would like further information please contact a member of the sustainability group and we will help as best we can.
26 June 2021
GO GREEN …. Watering your garden

The RHS have called on gardeners this summer to switch from "mains to rains", adopting more efficient water use in the garden. If you are on a water meter you could save some money as well. Here are a few ideas.

Most importantly, collect rain water in butts or containers, use this before using mains water.
Water early in the morning or evening when it's cooler, so water can soak into the soil rather than evaporating in the sun.
Water thoroughly but less frequently – a good soak once a week rather than a daily sprinkle. This will save time and encourages plants to develop deeper roots. Consequently they will be more robust to survive drier spells.
Direct water to the base of the plant rather than sprinkling all the surrounding soil.
Mulch soil with well rotted compost or composted bark after rain to retain the moisture.
Focus on watering plants that need it most- edible crops, anything newly planted, container plants.
Well established trees , shrubs and perennials rarely need watering.
Resist watering your lawn in a drought. Even if the grass turns yellow, it will usually recover after rain..
Line terracotta pots with old compost bags to stop them drying out so quickly.
19 June 2021
GO GREEN……. with your gifts
There are many alternative ideas to consider as gifts for friends and family before opting to buy the usual flowers,wine, chocolates, socks, smellies etc. Here are a few suggestions from Joy

Living gifts are available from various charities starting in price from £5.00
Make your own….cakes/biscuits/chutney/jam
Give bulbs or seeds or sponsor a tree to be planted
Give some of your time, offer to wash a car, do some gardening, babysit, so they can take a break
Buy from charity shops
Buy membership for a year or more to the National Trust or English Heritage
Toilet or Bin twinning ( find out more on bintwinning.org or toilettwinning.org)
Make a donation to a charity that is close to that persons heart on their behalf
Make or buy a bird box, a hedgehog barn, a bird feeder or insect hotel


When you have made your choice ….
Save paper you have received a gift in to re use. Or buy recycled paper.
Save cards you have received and use them to make your own.

These sort of gifts and cards will mean all the more to the recipient when they see how much thought has been put into them.